With back to school just around the corner, it's time to get kids excited about school and learning once again. At Lifestyle Learning™ we love using STEM activities to get kids back in learning mode after a long, lazy summer.
STEM activities provide hands-on and minds-on lessons for your child. Making science, technology, engineering, and math both fun and interesting helps your child to do much more than just learn. Exposing kids to STEM at home allows them opportunities to explore STEM-related concepts.
What's fun about these particular STEM projects is that kids will love trying out these back to school STEM activities at home as a bridge between summer break and fall learning. Most of these projects are designed for elementary-aged kids, but you can modify many of these to also work in a kindergarten or preschool classroom.
#1 – The Pencil Catapult
The #2 pencil is a classic school supply and the perfect instrument to create a pencil catapult! There are so many great learning opportunities that a catapult can bring to the table from engineering design to math to science and more. What you launch is up to you!
Check out our friends over at Little Bins Little Hands for detailed instruction with diagrams.
Supplies:
Rubber bands
Number 2 pencils
#2 – The Apple Volcano
The apple volcano is a fun way to kick off a new school year. This basic science experiment uses apples and just a few household materials to help get your kids interested in science. Our friends over at Sylvan Learning provide all the instructions, including photos to help you kick-off this STEM project.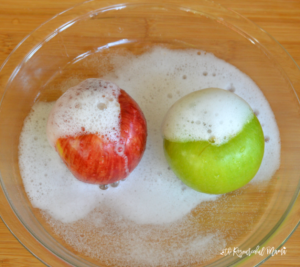 Supplies:
Hydrogen peroxide
Liquid Soap
Food Coloring
Yeast Packet
1-3 apples
Knife
Tray or baking dish
Measuring cups
#3 – M&M School Bus Math
We love this project from Toddler Approved. It's a great activity to get your kids interested in math. Not a fan of M&Ms? You can easily use cereal or another healthy treat as a substitute.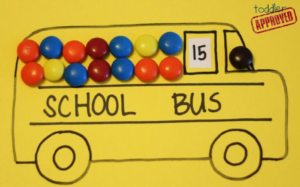 Supplies:
M&Ms (or other counters)
Contact paper to laminate the bus template
Dice
Whiteboard marker
#4 – Fizzing Rainbow
This STEM activity from steamsational.com is perfect kindergarteners – it's easy and fun!  Vinegar, baking soda and food coloring come together for a colorful fizzy reaction. With this STEM activity for kindergarteners, the exploration and discovery are all open-ended, giving them the chance to see how things work together without the confines of a strict academic environment.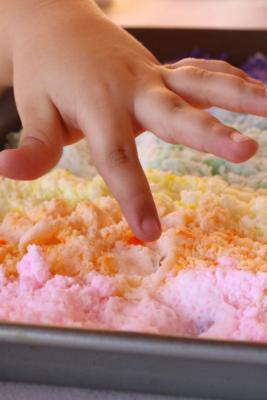 Supplies:
Baking Soda
Plate
¼ cup measuring cup
Vinegar
Food coloring
#5 – Inventor Box
If your child is already familiar with and enjoys STEM activities, then encourage him or her to tinker and invent by creating an Inventor's Box. It's an easy way to bring more STEM activities into your everyday play. The best thing about this inventor's box is it gives your child the opportunity to understand how to use the materials to solve problems. Check out this simple and earth-friendly robot project from Modern Parents Messy Kids using an inventor's box.
Supplies (for the box)
Small boxes
Oatmeal containers
Plastic lids
Egg cartons
Toilet paper tubes
Paper towel tubes
Empty spools of thread
Supplies (for attaching parts)
Rubber bands
Scotch tape
Masking tape
Painters tape
Glue
Clips
String
Rope
Creating fun and engaging back-to-school STEM activities for your kids is easier than you think. Make sure to check back for more tips from Lifestyle Learning™